Putin sending his antique bomber fleet to test Alaska defenses of US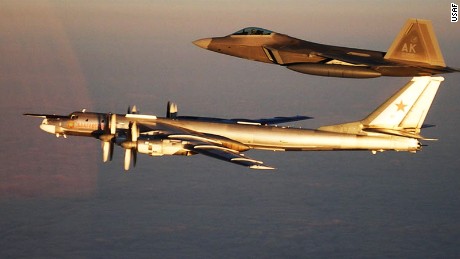 CNN:
Russian military aircraft were spotted flying off the coast of Alaska for the fourth time in as many days, a US defense official told CNN on Friday.

The two most recent sightings occurred late Wednesday and on Thursday, with the first involving two IL-38 maritime patrol aircraft and the second involving two Tu-95 nuclear-capable Bear bombers.
...
The picture is an interesting example of the technological edge the US has over Russia. The F-22 air superiority fighter hovering over a 1950's Soviet era bomber. In a real confrontation, the Bear bomber would probably never see the F-22 before Russian plane would be turned into smoking ruins. The Bear should be spending its time in a flight museum.