Norks threaten an attack on Guam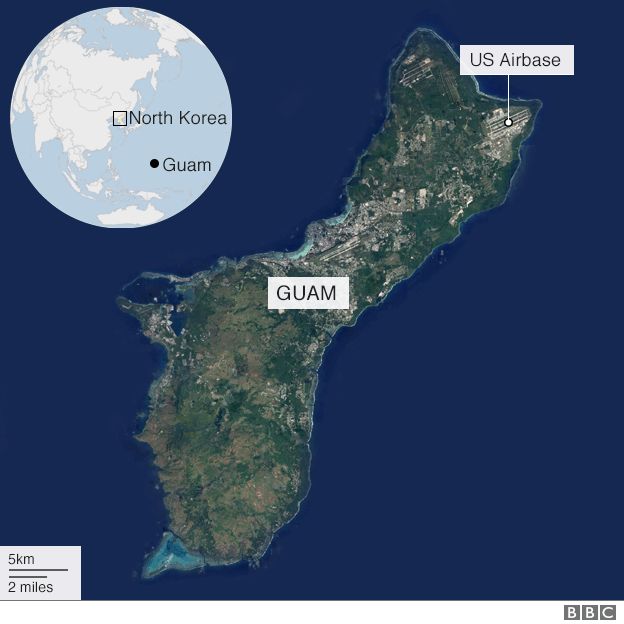 BBC:
North Korea has said it is considering carrying out missile strikes on the US Pacific territory of Guam.

The North's official news agency said it was considering a plan to fire medium-to-long-range rockets at Guam, where US strategic bombers are based.

It quoted an earlier military statement from Tuesday. President Donald Trump threatened Pyongyang with "fire and fury" on the same day.
...

On Wednesday, the official KCNA news agency said North Korea was "carefully examining the operational plan for making an enveloping fire at the areas around Guam" using its domestically made medium-to-long-range Hwasong-12 missiles.
...

In a message to the public, the governor of Guam Eddie Baza Calvo said there was currently "no threat" to the island and the Marianas archipelago, but that Guam was "prepared for any eventuality".
...
Guam was the main base for B-52 Arclight strikes on North Vietnam during that war. It is small but scenic with thick jungles and cliffs that overlook attractive beaches. I spent several days there at a naval hospital after I was wounded in Vietnam.
It is the base for the B-1 bombers that have been conducting exercises over South Korea in recent weeks in response to the threats by North Korea. An attack on Guam would be considered an attack on US soil and would likely lead to destructive attacks on the North Korean regime. The fact that the threat was directed at Guam may suggest that North Korea's bluster about attacking the US mainland may not be within their current capacity although they are testing missiles that may eventually have that reach.
Guam is defended by THAAD missile defense batteries that have been demonstrated to be effective.
While the B-1's are certainly capable of attacks on North Korea, I doubt they are going to be in the first wave of response to Nork aggression. More than likely missiles would be used in the first wave and followed up by strikes from B-2 stealth bombers. The B-1 could be involved in stopping a North Korean invasion of South Korea.
The North Koreans are short of food already and many of its troops are starving. I suspect that if they do launch an invasion one of their priorities will be to attack food distribution centers in South Korea. The South Koreans should consider setting up traps for them at those locations.
The South Korean army is much stronger than it was during the 1950's. The troops are well trained and they have modern equipment including missiles that can hit pinpoint targets and destroy underground bunkers and cave complexes.